Youth Camp 2023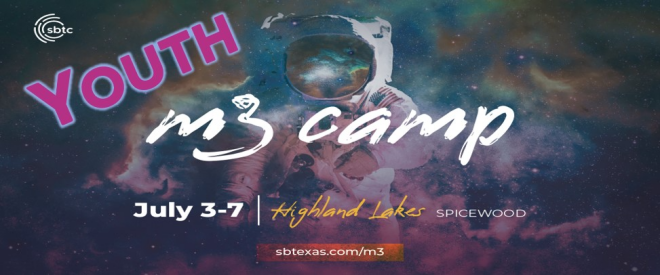 Monday, July 03, 2023 - Friday, July 07, 2023
M3 Camp @ Highland Lakes Camp (5902 Pace Bend Road N. Spicewood TX 78669)
July 3rd - 7th (Monday - Friday)
$50 Deposit is due (

Payable to FBC Kyle)

Your student should be Registered for camp through the SBTC online portal for M3

(link & instructions below)
$245 balance is due

(We hope to offset this cost a bit through fundraising efforts)

We would need to add/drop spots shortly after this date.
How to Register Your Student for Camp
During registration you will typically enter your information and click "Save/Next". Most of it will be self-explanatory, but I have included any additional info you will need below.
*Be aware, this is a bit of a lengthy process, but you may save your progress after any completed screen and return to your account to finish registration at a later time!
To register your student(s) click on the link below:
Scroll Down and click on the brown rectangle that says "Camper Registration"
"Create New Account"
"Parent information", and create a Username and Password.

"Student information"

You will need to fill out separate details for each student. A "Confirmation Message" will pop up. Please verify all the details are correct and then click "Confirm". Your "Current Camper" name will appear at the top of the next screen. Fill out adress and phone screens.
GHR ID screen

, click "Yes".
Enter FBCKYLE (one word, all caps) in the empty field for the GHR ID.

Click the gray box to the left of "Highland Lakes"

(It's the only option unless your student is attending more than one week of camp or more than one camp.

Enter Alternate Emergency Contact Data.

Complete Forms with Signatures.

( ***NOTE- There are 4 forms but some require a lot of signatures. Your student will not be registered until all of these forms are complete. Attached is a PDF copy of the General Camp Rules for HLC so careful consideration can be made to acceptable attire.)

The "Allergy Info" screen completes the registration for your student.
Click "Add Camper" to repeat the process.

When you are finished please return to your dashboard to see that your student(s) are listed under "Current Camper(s) in Your Account" with a green "R" next to their names. This means your registration is complete!
Taste and see that the Lord is good! Oh the joys of those that take refuge in Him! -Psalm 34:8 NLT